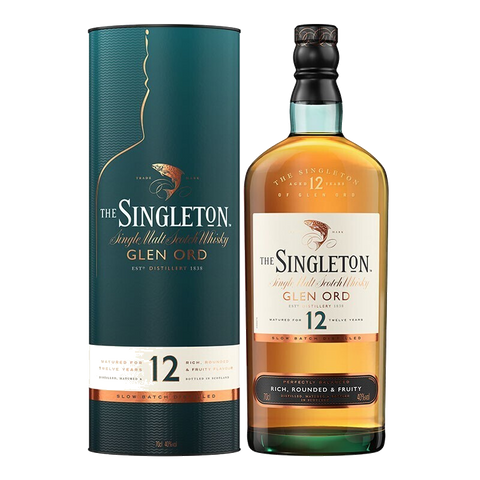 The Singleton 12 years Old Single Malt Whisky Glen Ord with Gift Box 700 ML
A fruity, well-composed Singleton with flavours of preserved plum and ginger that's perfectly balanced for everyday drinking. Contrives to be both light and smooth without compromising any depth of flavour or fullness of palate, on which there's a good balance of cleansing fruit acidity and creamy rich toffee.

Product Details
Alcohol percentage, 40%
Bottle volume ml,700ml
Brand,Singleton
Country,Japan
Tasting Notes
Color, Bright and clear; an intense amber.
Nose, Unhesitating and substantial. Initially, winy top notes rapidly evolve into fresher, sweeter plummy fruits offset by zesty, oily orange peel. Then, there are aromas of rich caramel toffees and chocolate accompanied by malty biscuits.
Palate, Immediate, smooth, and cooling. Subtly coating, with a clever balance of gentle fruit tartness (preserved plums) and gingery, rich, sweet malt. Becoming gradually lighter and cleaner on the palate with faint, appetising late notes of toasted coconut.
Finish, Medium in length and very, very rounded. A beautiful balance of lightly cleansing fruit notes and gingery toasted maltiness; a smooth texture, like caramel toffees or good chocolate slowly melting on the tongue. Late notes of cocoa and cool mint.
FOR OUTSTANDING OCCASIONS. IT'S MADE TO DRINK!
FEEL THE DRINK. AS GOOD AS IT GETS