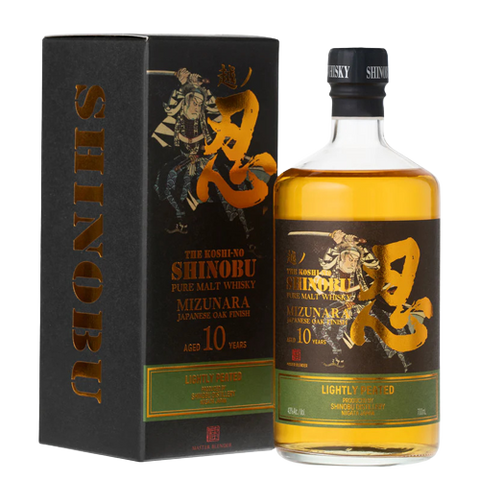 The Shinobu 10 YO Pure Malt Mizunara Finish Lightly Peated Malt Whisky 700ml
The SHINOBU Distillery is located in the Japanese seaside region of Niigata on the country's western coast. The area is famous for its "Three White Treasures": snow, rice and sake which have been cultivated for centuries. SHINOBU Pure Malt whiskies are crafted by master blender, Mr. Usami Ken who blended and aged the SHINOBU Pure Malt Whisky 10YO Lightly Peated in sherry and bourbon hogshead casks for more than 10 years, before finishing them in precious Japanese Mizunara Oak. Famous for imparting rich, luscious flavors of apples, pears, cloves and nutmegs, Mizunara Oak has been used in Japan since the 1930s and is now sought-after by whisky makers around the world.
Product Details
Alcohol percentage, 43%
Bottle volume ml,700ml
Brand,Shinobu
Country,Japan
Tasting Notes

Nose, Delicious honey aroma, with hints of chocolate, dry grass and bonfire from lightly peated malts.
Palate, Caramel, coffee, gentle smoky flavors followed by seaweed and vanilla scent.
Finish, Long and smooth with notes of salted caramel.
FOR OUTSTANDING OCCASIONS. IT'S MADE TO DRINK!
FEEL THE DRINK. AS GOOD AS IT GETS