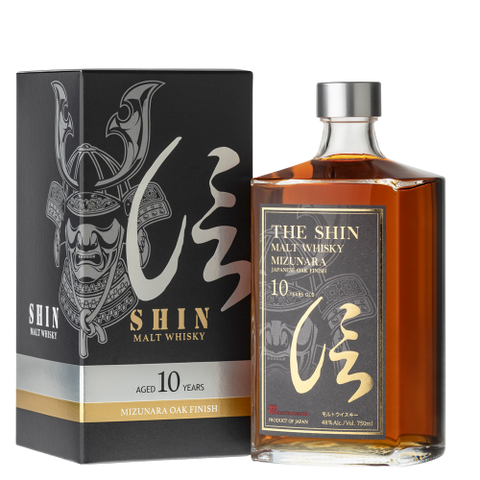 The Shin 10 Years Pure Malt Whisky Mizunara Oak Finish 700ml
The Shin Malt Mizunara Whisky Range are distilled and created with the discerning Whisky drinker in mind. The Shin 10-year-old is a premium Japanese Whisky aged for a minimum of 10 years, allowing the flavours to develop and mature over time. The Shin Whisky is crafted by Mr. Ken Usami, the master blender of Shinobu Distillery who selected finest malt whiskies and finished them in casks made of Japanese Oak, Mizunara Wood. Shin stands for Integrity, one of the core principles of Samurai tradition.
Product Details
Alcohol percentage, 48%
Bottle volume ml,700ml
Brand,Shinobu
Country,Japan
Tasting Notes

NOSE, Dried dark fruits of raisins, Sultanas, plums and dates, vanilla spice, grapefruit zest and toasted oak
PALATE, Sweet vanilla sponge cake, plums and raisins, dark chocolate and espresso with hints of citrus
FINISH, Sandalwood, citrus and balanced spice with slight floral fragrance finish
FOR OUTSTANDING OCCASIONS. IT'S MADE TO DRINK!
FEEL THE DRINK. AS GOOD AS IT GETS