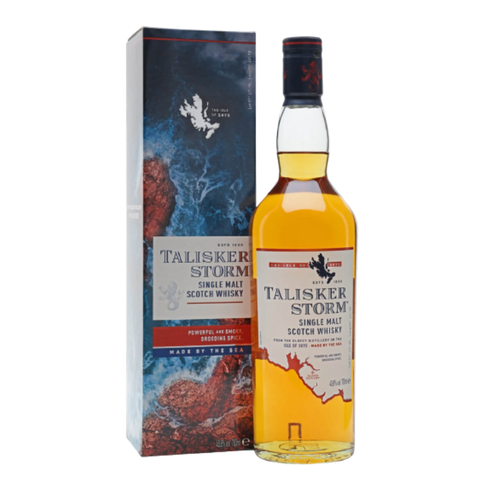 Taliskar Storm Single Malt Scotch whisky 700ml
Produced at the oldest distillery on the Isle of Skye, Talisker Single Malt Scotch Whisky has been made by the sea since 1830, TALISKER Single Malt Scotch Whisky has been "Made By the Sea" since 1830. In fact, few single malts tell the story of their origin better. Its smell and taste instantly connect the drinker with the rugged coastal environment. Every sip is a taste of the Isle of Skye itself – a powerhouse; challenging but adored, once discovered rarely left.
Product Details
Alcohol percentage, 45.8%
Bottle volume ml,700ml
Brand,Talisker
Country,Scotland
Tasting Notes

Nose, Rich and unexpectedly honeyed initially. Then some pleasing singed oaky notes and bandagey aromas. Now bonfire smoke comes through.
Palate, Medium-full, the usual Diageo polished mouthfeel, with initial honey and then a very decent dose of hot smoke. The oak is there too, with vanilla and some (actually quite polite) peppery spices.
Finish, Woody and spicy without becoming bitter. Good length. Sweetness returns at the death.
FOR OUTSTANDING OCCASIONS. IT'S MADE TO DRINK!
FEEL THE DRINK. AS GOOD AS IT GETS