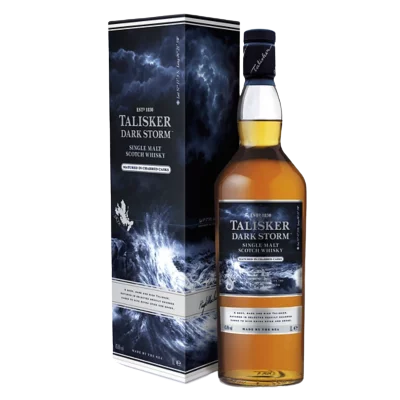 Taliskar Dark Storm 1000 ML Single Malt Scotch Whisky with Gift Box
Talisker Dark Storm Single Malt Scotch Whisky is a bold and smoky whisky that captures the untamed spirit of a storm at sea. It is aged in heavily-charred oak casks to give it its intense flavor. This 1000 ML bottle of Talisker Dark Storm Single Malt Scotch Whisky comes with a gift box and is available for purchase online to be collected at our Bengaluru duty-free store before you travel.
Product Details
Alcohol percentage, 45.80%
Bottle volume ml,1000ml
Brand,Talisker
Country,United Kingdom
Tasting Notes

Nose, A salty, smoky edge combines with hints of aromatic spices and oak, developing into stewed apples.
Palate, Exceedingly smooth and sweet with an intense vibrant combination of fresh fruits, blackcurrants and liquorice, slowly disappearing into a tempest of rich spice.
Finish, Warm, lingering and powerfully smoky.
FOR OUTSTANDING OCCASIONS. IT'S MADE TO DRINK!
FEEL THE DRINK. AS GOOD AS IT GETS