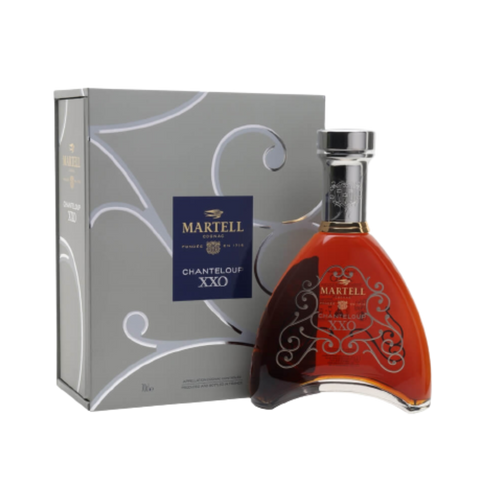 Martell XXO Chanteloup Cognac with Gift Box 700ML
One of the Big Four Cognac Houses continue to prove that there are still a whole host of avenues to explore in the labyrinthian world of Cognac, thanks to the release of Martell Chanteloup XXO Cognac. Containing 450 eaux-de-vie harmoniously weaved together using centuries of savoir-faire, it's the ultimate expression of Martell's blending prowess.
The youngest of the blend is 14 years old, and they are a selection from the finest crus in the Cognac region: the Borderies, Grande Champagne, Petite Champagne and Fins Bois. With talk of the new 'Extra Extra Old' Cognac age category causing a stir for the past year now, they have unveiled their latest expression. Still curious about the XXO Cognac category? We've taken the time to demystify this up-and-coming age denomination. Unveiled by Pernod Ricard at the historic Petit Palais in Paris in conjunction with Martell's Cellar Master, Christophe Valtaud, the Martell Cognac Chanteloup marks an iconic moment in Cognac history - three centuries after one of the oldest great Cognac houses was founded, in 1715.
Martell celebrated the release of the latest Chanteloup Cognac XXO with a lavish party in the gardens of the Petit Palais, where guests enjoyed various Martell-based cocktails and then moved inside for a five-course meal cooked by triple-Michelin star chef, Guy Savoy. Each one of the courses was prepared with a dash of different Martell Cognacs.
Product Details
Alcohol percentage, 40%
Bottle volume ml,700ml
Brand,Martell
Country,France
Tasting Notes
Eye, Deep glittering amber.
Nose, Aromas of honey, vine peach and apricot, complemented by notes of fig, almonds and walnuts.
Palate, Intense fruity aromas take over with power, balance and a full-bodied character. The length is incredible.

FOR OUTSTANDING OCCASIONS. IT'S MADE TO DRINK!
FEEL THE DRINK. AS GOOD AS IT GETS