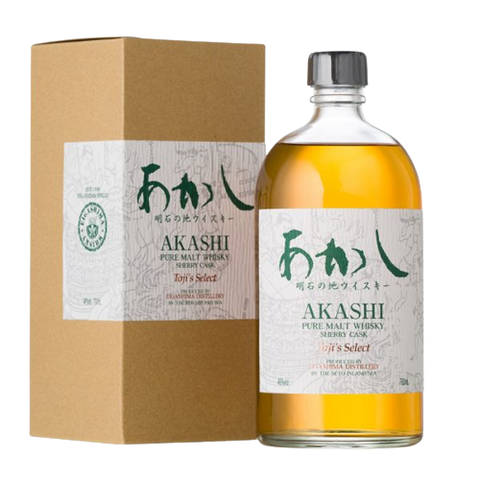 Akashi Pure Malt Whisky Sherry Cask 700ml
Akashi Pure Malt Whisky Toji's Select is distilled from 100% premium malted barley, aged in Sherry cask and bottled at 46% abv, instructed by Eigashima Shuzo's "Toji", the grand-master of Sake making. This pure malt whisky expresses a delicate floral and fruity taste, with smooth mouthfeel and robust body structure, that showcases the craftsmanship of sake making methodologies.
Product Details
Alcohol percentage, 46%
Bottle volume ml,700ml
Brand,Akashi
Country,Japan
Tasting Notes
Color, Deep cooper and tawny
Nose, Nutty and grassy, with raisin, chocolate peanuts and caramel notes.
Palate, honeyed glazed walnuts, the sweet chocolate continues into the mouth and balanced by citrus zest flavor.
Finish, Long and pleasant lingering toffee finish.
FOR OUTSTANDING OCCASIONS. IT'S MADE TO DRINK!
FEEL THE DRINK. AS GOOD AS IT GETS