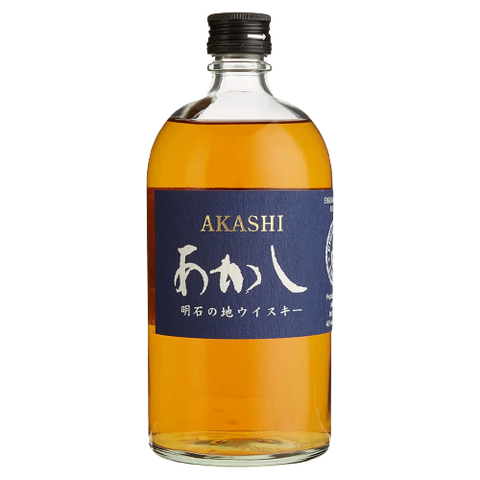 Akashi Blue Label Blended Whisky 700ml
Akashi whisky is the only whisky in the world that is made by a Toji (grand master in the art of sake making) using sake-making methodologies in the whiskey making process. The pot still used is smaller than those used by both Scottish and other Japanese distilleries, which in turn, decreases the levels of fusel alcohol. As a result, Akashi whiskey does not require as long of an aging process, while its core malt (cask strength) is smooth and delicate.
Product Details
Alcohol percentage, 40%
Bottle volume ml,700ml
Brand,Akashi
Country,Japan
Tasting Notes

Nose, Orange peels, honey and white pepper, spices.
Palate, Peppery, citrus, cinnamon , hints of smoky flavors.
Finish, Long finish with hints of spicy and sweet finish.
FOR OUTSTANDING OCCASIONS. IT'S MADE TO DRINK!
FEEL THE DRINK. AS GOOD AS IT GETS