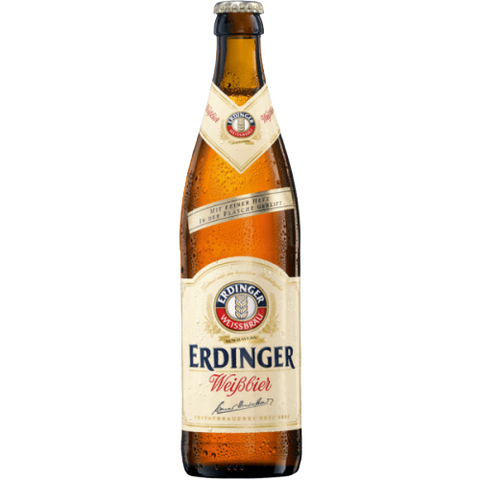 500ml Erdinger Weiss Beer Pint
ERDINGER Weißbier
Every sip leaves you wanting more – our ERDINGER wheat beer with fine yeast is the crowning glory of traditional Bavarian brewing skills.
The strength of this classic wheat beer lies in the harmonious balance it achieves between the various aromas. Gently spicy wheat and yeast aromas blend with mildly bitter hops. The invigorating carbon dioxide ensures its typical liveliness. A premium beer whose full-bodied yet elegant character leaves a lasting impression of ultimate Bavarian enjoyment. A truly unique wheat beer!
ERDINGER Weißbräu allows its top-fermenting specialty to mature in the bottle in the traditional manner, just like champagne. This wheat beer from Erding offers more than just sparkling refreshment – it gives a true taste of Bavaria.
The taste of Bavaria.
These are just a few recommended pairings, but we encourage fans to explore new possibilities! Recommended food pairings: Salad with citrus dressing, Grilled white fish, Ginger tofu, Guacamole, Sausage Roll Coleslaw.
$22.00
$44.00
you save $22.00
Product Details
Alcohol percentage, 5%
Bottle volume ml,500ml
Brand,Erdinger
Country,Germany
Tasting Notes
FOR OUTSTANDING OCCASIONS. IT'S MADE TO DRINK!
FEEL THE DRINK. AS GOOD AS IT GETS