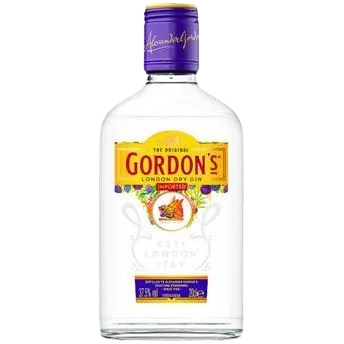 Gordon Dry London Gin 200ml
Gordon's London Dry Gin was established in 1769 by Alexander Gordon as he set out on a mission to produce a gloriously-flavoured gin worthy of carrying his family name. Gordon believed that success lay in the perfect combination of pure distilled grain spirit and rich botanicals. To this day Gordon's is distilled to this same exacting standard and the product is triple-distilled to guarantee the purity of the gin. The exact blend of our botanicals remains a closely guarded secret with a combination of handpicked wild juniper berries, coriander, angelica and liquorice.
Product Details
Alcohol percentage, 37.5%
Bottle volume ml,200ml
Brand,Gordon's
Country,England
Tasting Notes
Color, Clear
Nose, Pine-laden juniper, with a peppery/resinous undertone. Coriander lurking on the edges as well with a slight hint of citrus and a menthol character. Quintessentially classic.
Palate, Botanicals centred around handpicked juniper berries.
Finish, Short and light with juniper and citrus.
FOR OUTSTANDING OCCASIONS. IT'S MADE TO DRINK!
FEEL THE DRINK. AS GOOD AS IT GETS